Vasa Ski Club Nordic Flyers Cross Country Skiing
---
Clubs & Enrichment / Winter Outdoor Recreation -
Winter 22-23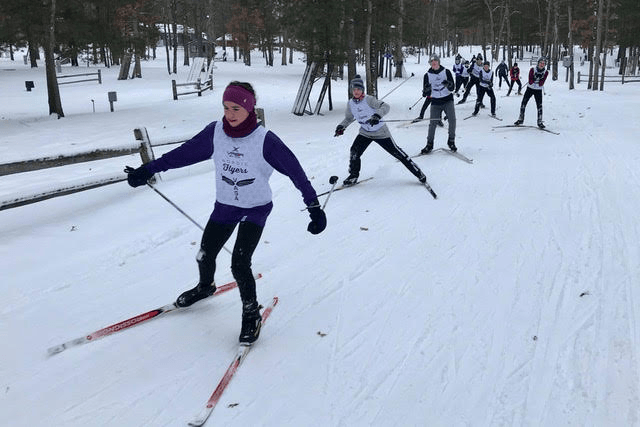 Nordic Flyers is Vasa Ski Club's flagship skier development program, and has been in place for nearly 30 years. Each season, 60-100 middle school students participate in a very fun, on-ski on-trail nordic ski instruction program staffed by over 40 volunteer coaches. Nordic Flyers is for middle schoolers of all skill levels, from beginner to advanced, and they are broken up into groups accordingly. Besides learning cross country ski technique, the skiers are exposed to a lifelong healthy outdoor activity in a fun environment, in beautiful winter surroundings at the wonderful Hickory Hills ski area. This program lays the foundation for a lifelong recreational activity students can share with friends and family. And for any kids who might be interested in later joining the high school xc ski team. Nordic Flyers provides an excellent learning platform.
VSC 2022-23 COVID-19 Guidelines
1. Minimize any time indoors.
2. Masks are required for all participants/staff while indoors.
3. Socially distancing is required during outside activities. When unable to social distance outside, masks are required.
4. Masks are not required for skiing.
5. Please do not attend VSC activities if you have had a recent high-risk exposure or are experiencing Covid-19 symptoms.
Club leadership will continue to monitor national, state and local recommendations and adjust these guidelines as needed.
*TCAPS is not responsible for COVID-19 protocols and guidelines put in place by community partnerships that operate outside of our facilities*
2023 Nordic Flyers Program
We are back to bring another exciting year of XC fun and instruction for area middle school students. Join your friends for our one-day-a-week program on Saturday mornings at 9:30 a.m. beginning January 7, 2023. The Vasa Ski Club Nordic Flyers Program is a learn-to-cross-country-ski program and is open to boys and girls in 6th - 8th grade from any Traverse City area school (both TCAPS and non-TCAPS students) .  The program runs 8 weeks and is for beginner through advanced skiers... no experience necessary!
Season Start & End Dates
Saturday Mornings 9:30 am - 11:00 am
January 7, 2023 - February 25, 2023
VASA Ski Club reserves the right to cancel program dates within 24 hours due to unsafe skiing/trail condition.
Location:
Hickory Hills and Hickory Meadows Ski Area, 2000 Randolph Street, Traverse City, MI  49684
BONUS! 2022 Christmas Camp included to kick off this year's program
Included in the program fee will be a special 2 - 3 day ski clinic that will take place over the holiday break @ Hickory Hills. (However, if you've already got holiday plans no worries. Attendance is not necessary in order to participate in the regular Nordic Flyers program that begins in January)
DATES TO BE DETERMINED
Transportation
Parents must drop off and pick up their skiers at the designated Hickory Hills drop off area.
Please have your skier dress appropriately for the weather.
This is NOT a Hickory Hills sponsored program.

ALL questions/concerns should be directed to the Program Administrator, Pamela Jean
Communication will be done primarily through email - and is often last minute in regards to weather/trail conditions - please ensure the email address attached to your registration is an active email that is checked regularly.
Participation Fee
$110 - Program Fee (everyone pays this)
$45 - Additional for classic style ski rental  ($155 for program fee & classic style ski rental)
$55 - Additional for skate style ski rental ($165 for program fee & skate style ski rental)
$210 ALL INCLUSIVE: Program Fee including classic style and skate style ski rental
The Program Fee includes a Vasa Ski Club Student Membership and a Hickory Hills Season Pass.
RENTAL SKIS:  If you rent skis via the rental option at sign up, you will be able to take home and keep the skis for the duration of the program, from December through February.
During sign up please provide shoe size in Euro / EU size as per chart shown here  
***IMPORTANT: All skiers must have both classic and skate style skis to participate (either your own, or rented)
Failure to not answer height, weight and boot size may result in not having equipment for your student.
****Rental skis will be available on a first come first served in order of registration.
VASA Ski Club offers a limited number of partial and full scholarships.
To have your student considered for a scholarship, please DO NOT complete the online registration process.
Participation Limits
Nordic Flyers will be limited to 75 skiers this year. Skiers will be admitted based on the order in which they register..so hurry and register soon!!
Registration Deadline & Details
Deadline: Friday, December 16, 2022
Registration deadlines are final. Late registrations may not be accepted after the posted registration close date.
In an effort to be a good community partner, LEAP will accept non-TCAPS students when possible. Space is limited and enrollment may be capped for various offerings.
Program Director: Jo Pergerine
Open House TBD
We will have an open house before the program begins so that parents and children can meet our program director, learn a little more about the program and pick up their rental skis.
ALTERNATIVE OPTION - for some 7th & 8th graders to ski with High School team program
The High School Team would like to expand its membership by adding up to 15 skiers in the 7th-8th grade age group. This option is a completely separate program from the Nordic Flyers and is for kids that have an interest in racing and training to become better skiers. Ideally, these 7th or 8th graders should know how to ski, have a competitive spirit, and have their own equipment (or ask about rental options). The high school team practices 5 days per week, and any interested 7th or 8th graders should plan to join practice for 4 of those days. If you are interested in alternatively signing up for the high school option, please contact: Coach Ethan Goss @ gossforest@gmail.com
Payment is required at the time of registration. To register online using a Discover, MasterCard, Visa, or ACH (via a checking or savings account) please register below. Payment with cash or check can be made at the LEAP office located at Central High School, 1150 Milliken, Traverse City. Please use the 1st (smaller) auditorium entrance - we are located just inside the doors to the right. Summer Office Hours are Mondays & Thursdays from 9:00 am to 2:00 pm. School Year Office hours are Monday – Friday, 8:30 am – 4:30 pm. Please call the LEAP office at 231.933.6570 for more information.
NOTE: Registration is not complete until your course appears in your dashboard. You will also receive an email from Eleyo confirming your registration. If you do not receive the confirmation email or see the course in your dashboard, be sure you have not left any course items in your shopping basket. If you need assistance please call the LEAP office (231.933.6570). If you did not receive an email from Eleyo or see your course in your dashboard, the payment did not process and the student is not registered.
January 2023
| Su | M | Tu | W | Th | F | Sa |
| --- | --- | --- | --- | --- | --- | --- |
| | | | | | | |
| 1 | 2 | 3 | 4 | 5 | 6 | 7 |
| 8 | 9 | 10 | 11 | 12 | 13 | 14 |
| 15 | 16 | 17 | 18 | 19 | 20 | 21 |
| 22 | 23 | 24 | 25 | 26 | 27 | 28 |
| 29 | 30 | 31 | | | | |
February 2023
| Su | M | Tu | W | Th | F | Sa |
| --- | --- | --- | --- | --- | --- | --- |
| | | | 1 | 2 | 3 | 4 |
| 5 | 6 | 7 | 8 | 9 | 10 | 11 |
| 12 | 13 | 14 | 15 | 16 | 17 | 18 |
| 19 | 20 | 21 | 22 | 23 | 24 | 25 |
| 26 | 27 | 28 | | | | |
| | | | | | | |
VASA -6 - 8
---
Saturdays, Jan 7 - Feb 25
---
---
---
---